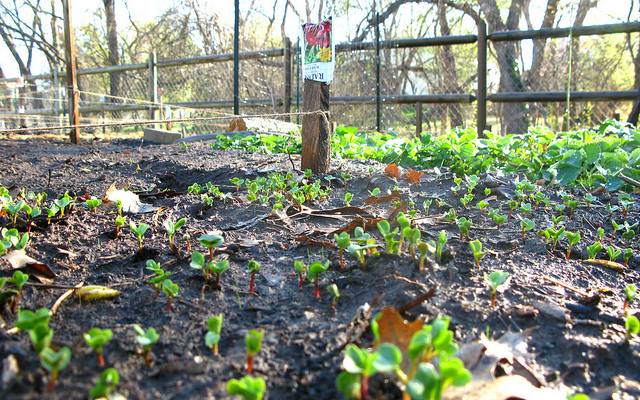 2014 registration is now open- join the Local Food Resource Hubs and start the countdown to spring!
The Local Food Resource Hubs are neighborhood networks of gardeners. The Hubs program is intended to provide home gardeners and community gardeners the support they need to grow, preserve, cook and compost their own fresh food by offering supplies, educational opportunities, and community connections in their neighborhood. The Local Food Resource Hubs program benefits neighborhoods by building community and increasing access to healthy food.
Residents of Minneapolis and St. Paul can join the Local Food Resource Hubs and select a small, medium, or large garden package- prices vary by size and partial scholarships are available. It's basically a bulk buying club; packages of seeds and plants are available at a fraction of their retail price. Members pick up their seeds and plants at distribution events held across Minneapolis and St. Paul, which are run by Gardening Matters, Hub members, and countless neighborhood partners and volunteers.
But it's about more than just the seeds and the plants. The Hubs program is meant to foster community development, using gardening as the tool. Once people are connected to their neighbors through gardening, they are more willing to share resources, collaborate, and make change in their community related to food, health, and gardening. An example of this is the Growing West Side Seed Library just in its launch phase, thanks to Growing West Side and Hub members in the West Side/West 7th areas of St. Paul. In this way, the Hubs help bring together people within and across neighborhoods who are growing food, which is the foundation to rebuilding a community-based food system.
This is the fourth year of the Local Food Resource Hubs program. Last year in 2013 there were 900 members in the network, and the Hubs distributed more than 18,000 packets of seeds and 25,000 seedlings, 2,500 strawberry plants, 400 raspberry plants, and 30,000 pounds of compost.
Residents should contact Gardening Matters at 612-821-2358 or visit www.gardeningmatters.org/hubs for more information about the program, including a map of the Hub areas and the sign up form. English and Spanish paper forms are available from Gardening Matters and can be downloaded from the website as well.
See below for the upcoming seed distribution events. Members from any neighborhood in Minneapolis/St. Paul may join and pick up their seeds at the distribution event closest to their home.
Minneapolis:
-Waite Park Community Center (1810 34th Ave. NE) in NE Minneapolis: Saturday, March 22, 1:00- 3:00pm
-Waite House in the Phillips Community Center (2323 11th Ave. South) in South Minneapolis: Saturday, March 29th at the Community Food Forum, click for details (http://www.gardeningmatters.org/community-food-forums)
-Neighborhood Hub at Christ English Lutheran Church (3210 Oliver Ave N) in North Minneapolis: Saturday, April 5, noon-3:00pm
-St. Peters AME Church (401 E. 41st St.) in South Minneapolis: Sunday, April 6th, 1:00-3:30pm
St. Paul:
-First Covenant Church (1280 Arcade St.) in East Side St. Paul: Saturday, March 22, 9:30am- noon
-Hancock Recreation Center (1610 Hubbard Ave.) in St. Paul Midway: Saturday, April 5th, 9:00am- noon
-Rivers Edge Academy (188 Plato Blvd.) in West Side St. Paul: Tuesday, April 8th, 6:30- 8:00pm
All the plant distribution events will take place Saturday, May 17th, see website (www.gardeningmatters.org/hubs) for locations and times.
The Local Food Resource Hubs are coordinated by Gardening Matters and supported in part by the Minneapolis Department of Health and Family Support through the Statewide Health Improvement Program; Homegrown Minneapolis; Afro-Eco; CAPI; Waite House; Minneapolis American Indian Center; Hope Community; St. Peter's AME Church; Northside Fresh Coalition; St. Olaf Community Campus; Neighborhood Hub; Redeemer Center for Life; Grace Center for Community Life and Little Kitchen Food Shelf; the Ventura Village, Northeast Park, and Columbia Park neighborhood associations; Corcoran Neighborhood Organization; Southeast Como Improvement Association; Hamline-Midway Coalition; Saint Anthony Park Community Council; Gordon Parks High School; East Side Prosperity Campaign; Urban Roots; First Covenant Church; Healthy West 7th Coalition; Growing West Side; Rivers Edge Academy; East Side Food Co-op; Mississippi Market; and many, many more neighborhood partners.