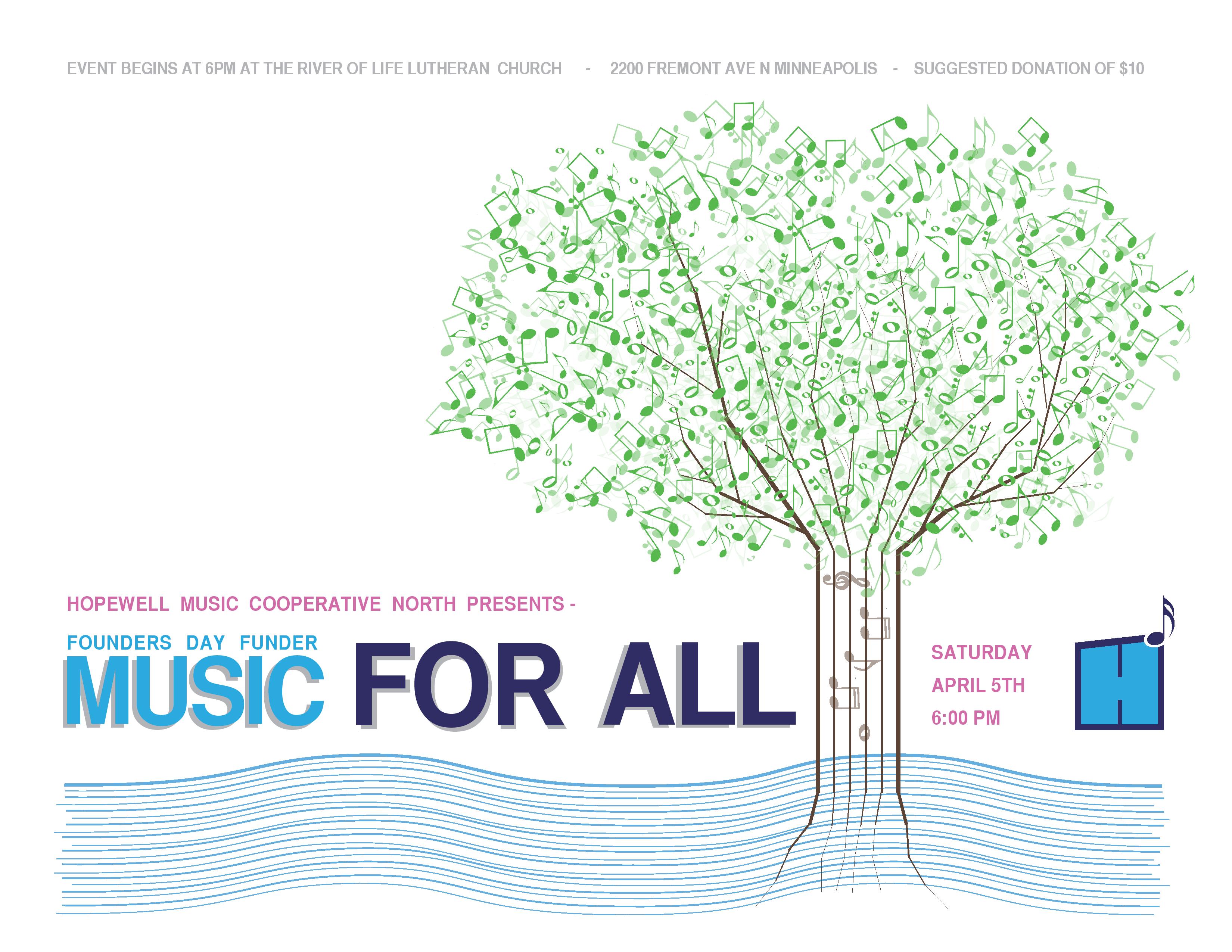 Long time Cleveland resident Jaette Carpenter has finally achieved something she has wanted to do for about 40 years.  With the help of co-founder Ellie Fregni and more, they set up a Non Profit Music Education Cooperative called Hopewell Music Cooperative – North.  Her goal was to set this up for North side students, to fulfill an unmet need of formal private music lesson regardless of economic level and much more for the community of North Minneapolis. Currently about half of the students are taught free of charge, the other 1/2 are discounted. In a couple week's they'll host a great fundraiser. Information about the event below:
Music for all! Hopewell Music Cooperative North's 2nd Annual "Founders Day Funder" fundraiser at River of Life Lutheran Church. Hopewell Music Cooperative North invites you to attend a fundraising concert and reception benefiting Northside's only music school.

Hopewell Music Cooperative North presents their 2nd Annual "Founders Day Funder" at River of Life Lutheran Church on Saturday, April 5th at 6pm.

The concert will be held in the sanctuary at 2200 Fremont Ave N in Minneapolis and is open to all ages. There is a suggested donation of $10 at the door. Come hear a variety of music ensembles including the Hopewell Community Choir, Jazz Ensemble, Orchestra, and Flute Choir along with other student solo performances. Both the Flute Choir and Orchestra have the exciting opportunity to be world­premiering pieces by local composers: The Hopewell Flute Choir will be performing "Zephyr" by Ian A Cook and the Hopewell Orchestra will be premiering "Olorun and the Orishas" by Dameun Strange, a co­founder of Hopewell.
After the concert enjoy a reception with music provided by Hopewell students and bid on raffle items donated by local businesses including Goddess of Glass, Cookie Cart, Friedman's Department Store and many more.
If you would like to support Hopewell but are unable to attend please go to www.hopewellmusic.com to discover how you can help bring high­quality music education to the Northside community.Hopewell Music Cooperative North is a nonprofit music school in North Minneapolis. Their mission is to provide underserved students access to affordable and high quality private lessons, ensembles, and courses as well as to safe and vibrant performance opportunities for community members.