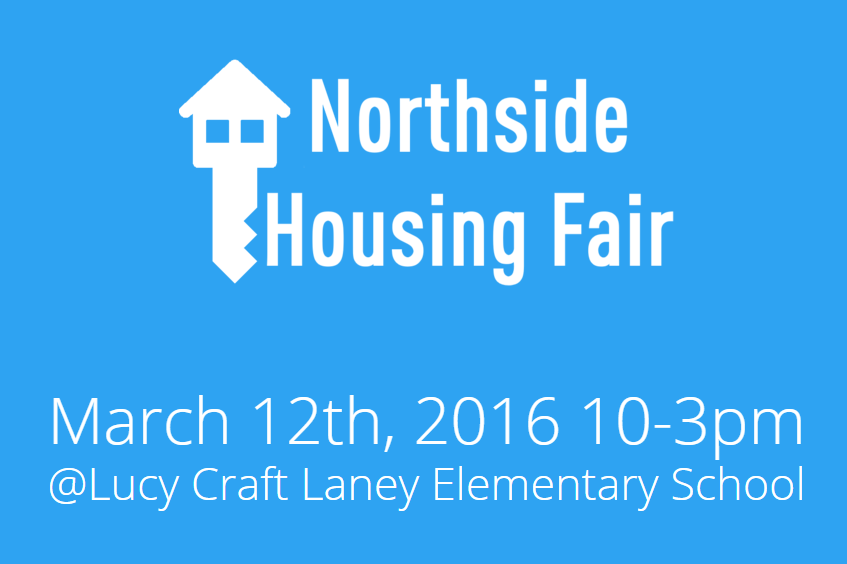 We are very excited to announce the relaunch of the Northside Housing Fair. The Cleveland Neighborhood Association hosted an annual northside housing fair for a number of years and is proud to bring back that tradition with the 2016 Northside Housing Fair which will take place in March 12th, 2016 here at our partner school Lucy Craft Laney Elementary School. The Northside Housing Fair will be your one-stop shop for all things housing related, whether you're a renter, a homeowner, or anything in between. We'll have housing resources from contractors to financing opportunities, housing organizations to renter resources, neighborhood organizations, community groups and everything in between. Visit tons of vendors, participate in mini-workshops, and find answers to your housing related questions all in one place.
We are currently registering vendors (50% table discount Early Bird Special!), recruiting sponsors, and encouraging residents to Save the Date! You can even RSVP on Facebook!
The Cleveland Neighborhood Association has a long track record of hosting top-notch community events such as Live on the Drive and Party in the Park. We are proud to be able to continue that tradition with the Northside Housing Fair. Join us in making this a great event.
We'd like to thank you early partners and sponsors, Lucy Craft Laney Elementary School, Minneapolis Community Education, Wells Fargo Home Mortgage and the Neighborhood And Community Relations Department. Get on board to be part of this great event today!