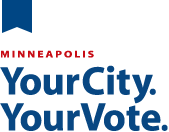 Is an efficient, fair election on November 5th, 2013 for Minneapolis important to you? You can help protect voters' rights, serve your community—and be paid to do it. Join America's largest simultaneous one-day team in the nation! We need 200 more election judges in Minneapolis to make this a successful election for everyone!
Election Judge Requirements
U.S. citizen eligible to vote in Minnesota
Able to read, write and speak English
Attend a training class
Not be the spouse, parent, child, stepchild, sibling or stepsibling of any election judge serving in the same precinct or of any candidate at that election.
Election Judge Responsibilities
Open and close the polls
Register and sign in voters
Distribute and collect ballots
Operate voting equipment
Record and certify the vote totals
Desirable Election Judge Qualities
Able to communicate clearly with voters
Comfortable working with and serving a diverse population
Fluency in a second language
Election Judge Pay
Minneapolis Election Judges are paid an hourly wage to attend a training class and for service on Election Day. The hourly wage for Minneapolis Election Judges is $8.75 per hour.
State law allows for time off from work without loss of wages (Minnesota Statute 204B.195).
[button link="http://vote.minneapolismn.gov/judges/index.htm" type="big" color="orange" newwindow="yes"] Sign Up Today to be an Election Judge[/button]