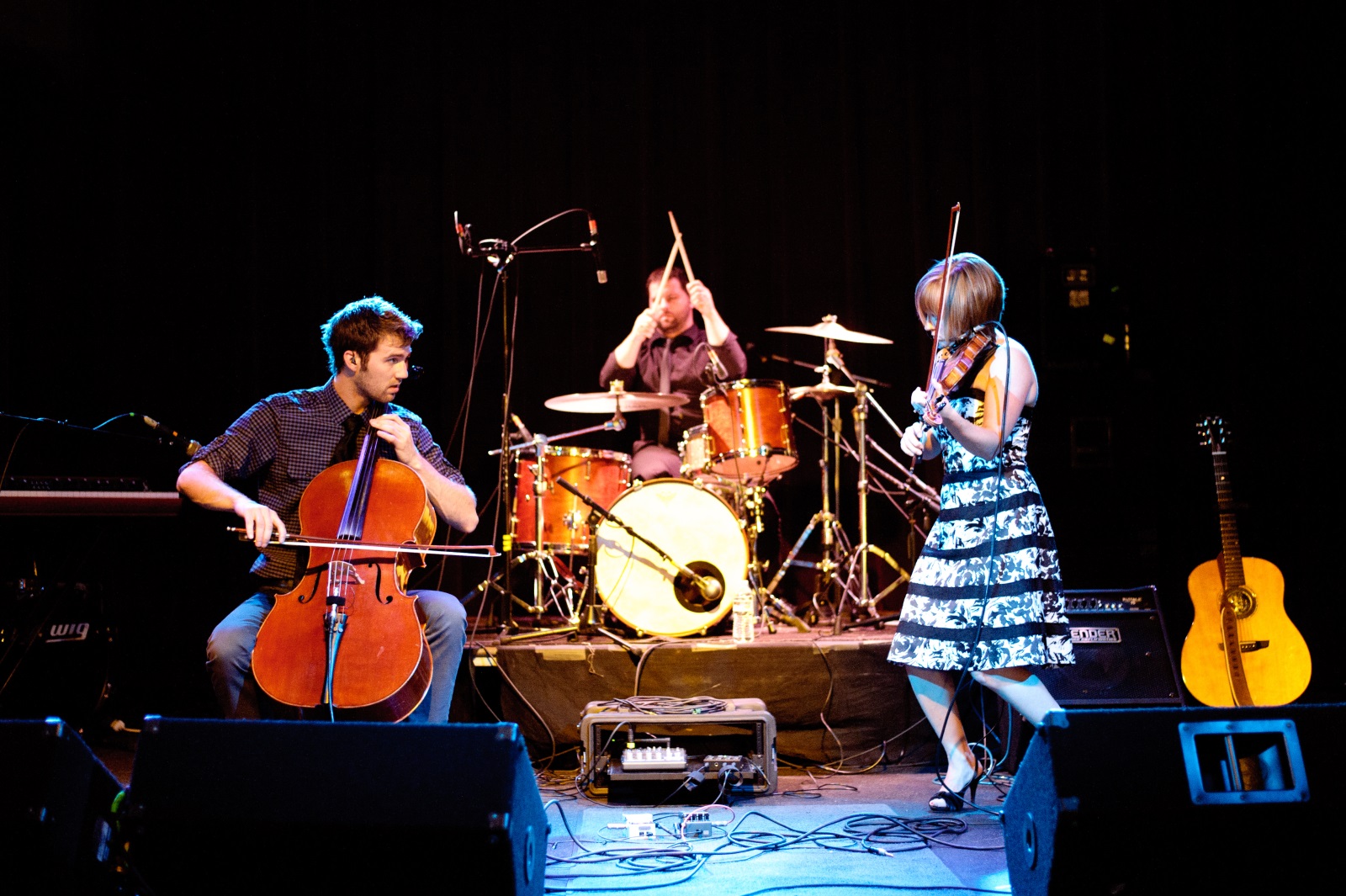 The annual Northside summer concert series, 

Live on the Drive

, continues its seventh year. The unique sounds of Clocks and Clouds classical fusion will perform on 

Thursday, July 10th

, from 

6 to 8pm

. This will be the second of three concerts held outdoors this summer on the scenic Victory Memorial Drive at 34th Avenue North in Minneapolis, one of the most beautiful concert settings in the city.
Clocks and Clouds

 has stunned audiences with their unique fusion of rock and classical music. The group consists of violinist Stephanie Shogren, cellist Lucas Shogren, and drummer Derek Powers. Each member brings their own individual musical style and ideas to create exciting and epic music that has been met with enthusiasm in audiences of all ages. By adding pick-ups to their acoustic instruments, incorporating guitar effects and loops, using a full drum kit, and writing original rock music for stringed instruments, a sound is created that is instantly appealing to listeners.
Come with an appetite and enjoy dinner from food vendors The Lowry Café, Mama Donato's Woodfired Pizza, Gramsky's Sandwiches, and treat yourself with gelato from Nona Rossa's. Stay into the evening for a movie in the park, featuring Soul Food Junkies at dusk right at the Live on the Drive concert site. And buy one of our AWESOME T-Shirts! All t-shirt purchases are donations to keep our concerts going, we're asking $25 per shirt. Our "green" events feature recycling and composting, diverting 93% of materials out of the waste stream last year. Be sure to invite your neighbors and bring your friends to this family-friendly, all-ages event!

Live on the Drive is presented by founding partner, North Memorial, with theCleveland Neighborhood Association, the Minneapolis Park and Recreation Board,North End Hardware and The Lowry Café, Hennepin County, Westphal Auxiliary Legion, Healy Creative, North News, Victory Neighborhood Association, Camden Lions, Washburn-McReavy, and the Metropolitan Regional Arts Council.  This activity is funded, in part, by appropriations from the Minnesota State Legislature with money from the State's general fund, and its arts and cultural heritage fund that was created by a vote of the people of Minnesota on November 4, 2008.

Live on the Drive brings people together from across the Northside and throughout the greater Twin Cities to hear extraordinary music and to celebrate summer, good health and Northside city living. Last summer, over 4,500 people attended, and we expect even more will come out to see this summer's incredible slate of Minneapolis-based musicians: jazz vocalist Thomasina Petrus (June 12th), rock and classical fusion act Clocks & Clouds (July 10th), and folk/indie rock band Bomba de Luz (August 14th). Food vendors and Movies in the Park are back to finish out each concert night: family-friendly movie Remember the Titans (June 12th), Black Film Festival pick Soul Food Junkie (July 10th), and Black and White classic Psycho (August 14th). Our Bike to the Drive event in August, Artist Spotlights during intermission and more will round out what has become a staple of summer on the Northside. 

For more information, call 612-588-1155 or visit www.liveonthedrive.org.